Come and see the "Just Red" Collection by Zen Chiic!



New Patterns for the collection..


We made a darling table runner with the line using a pattern by Donna Jordan.
Kits are available on the website



Kits for this wall-hanging are also available.
A shop pic...


The Strawberry Quilt is made using the small "Quick Curve Ruler" We have the patterns and rulers.

More new fabric from Moda...


Loving these mermaids!
Check out the fabrics here.
And any day now the new Kaffe Fassett Collective Line will be here! The whole line!!!
Fabrics are divided by visual temperature...
Hot


Cold


There will be some new prints and new colors of classics. Can't wait!

I have made progress on my "Americana Rose"wool applique Wall Hanging.


I am on the 4th block! The wool bundle can be found here.

Have you signed up for one or both of our new Block of The Month Programs?


Tula's "Decorative Stitches"
And...


Waterwheel Medallion
You can find more information on these programs here.
The Vermont Shop Hop 2020 (Our 15th Year) is approaching! Buy your passport from any participating Shop and receive a free 1/2 yard of fabric...your choice! More info on the Hop can be found on our website. http //www.vermontshophop.com/
We are offering fabric printed specifically for the Vermont Hop. Hoffman of California digitally printed 9 photos by Nicki Steel Photography to create this beautiful panel...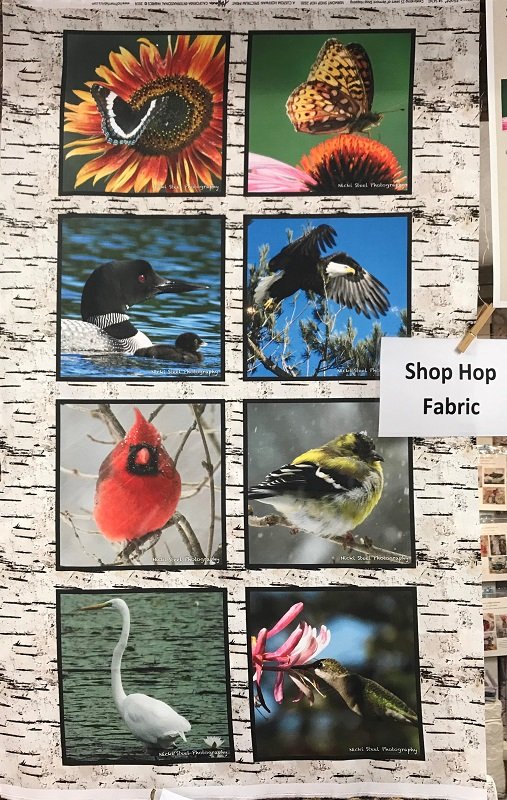 Our Theme this year is "Take Flight". These panels are available on the website too.
The Bernina Accessory for February is 25% off the #34 Reverse Pattern foot.


To learn how this foot works click here. You can watch the video and determine if this is a foot you might want.
We hope you are finishing up those UFO's and can start sewing something just for you!
Hope to see you soon!
Happy Sewing!
Shelley