Hi Everyone!
Hope you are well and doing lots of sewing!
We have lots of new stuff to share with you!
All the new Kaffe August 2020 is here in stock on the bolt and "Jelly Rolls"
There are several free projects on the Free Spirit Site using these new fabrics.
"Nocturnal"
Swatched Ocean
Swatched Spot
Of course Kaffe made it easy to mix this new line with past lines. The Collective consistently use the same color palette when creating new lines. When creating a quilt from one of Kaffe's books he encourages you to substitute fabrics from the original.
Light In The Forest by Sue Pen ...
Gorgeous radiant fabrics.
We have all the coordinates too...
The whole line will be on the website.
Holiday Fabric is rolling in...
We have several patterns for this line by Fig Tree Quilts.



And from Pattern Basket Quilts

And an add on pattern for Hocus Pocus
You will need the Hocus Pocus Pattern to make the runner.
And from "It's Sew Emma"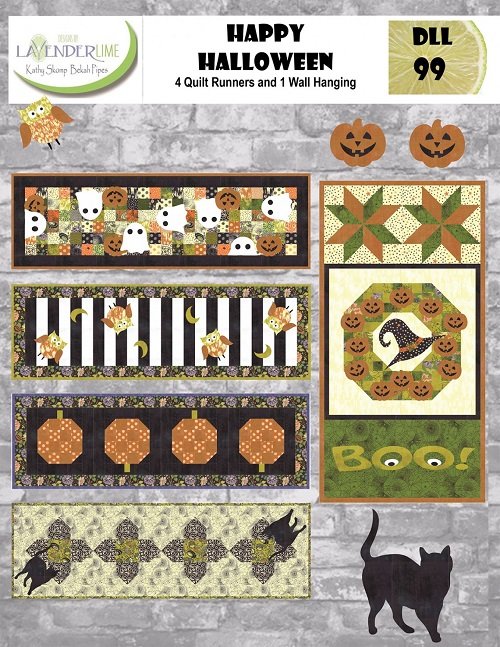 So cute! Make runners or a whole quilt!
New Winter/Holiday Lines Fabric and Patterns


Christmas Figs ll
Hollyberry by Corey Yoder
We have fabric on the bolt and Jelly Rolls
And lots of projects...
This has full size patterns and you have a choice of wall hanging, six block or 4 block quilt.
Plus several new books...
New Books and Patterns
Includes Templates and Elastic
A great beginner quilt with over-sized log cabin blocks. Finished size is 40" x50"
We will be offering kits for this quil.
This is an intermediate quilt pattern by Heather Black. Full Color 9 page pattern with template inserts and instructions for curved piecing.
Finished size is 60" x 72"
If you are participating in the "Journey To Nebula" sew along. We have all the patterns and rulers in stock and on the website.
This is National Sewing Month! Bernina has some wonderful offers this month so stay tuned.
The September Accessory of the Month is...
This is a great foot for sewing on leather, cork, vinyl etc...
The leaves are all ready starting to change here in Vermont! Beautiful weather for a drive to visit us. Please note that we are still only open by appointment due to safety measures and Covid 19.
The website is open 24/7!
Happy Sewing!
Shelley