Skip Navigation
Website Accessibility
New Kaffe Fassett Sew Along
Announcing the new Kaffe Fassett Sew A Long! "Gather No Moss"
Take a six week color loving adventure with Kaffe Fassett! Hosted by Free Spirit full of Kaffe Suprises from July 6 to August 10. We are offering complete kits in 2 colorways, Delft or Smoke. Pick your favorite colorway!
Delft

Smoke
This is a pre order item on the website. Your kit will contain all the fabrics for the top (77x92) and the binding. You will also receive a "Swag Bag" containing the pattern. You must have the included pattern to participate. Kits will be available in June. The "Quilt Along" will take place in a private Facebook group hosted by Free Spirit.
The kit includes
Over 14 yards of fabric
Exclusive Swag Bag with the Kaffe Fassett "Gather No Moss" reusable pattern featuring instructions for making all 4 color stories that are offered.
Along the journey you will get
Color and Design placement advice from Kaffe Fassett
Tips and techniques for working with brilliant color and design from guest experts.
Incentives to encourage you to "Gather No Moss" and keep creating.
Color confidence using the simple-to-make "Rolling Stone" quilt book.
We have ordered a limited number of kits so don't delay. You will pre pay the full amount of $225.

We have been waiting for the new Kaffe Fassett wide backs to come into the shop. They are scheduled for February. As soon as they arrive I will send out another email.
They include some of his most beloved prints..
Millefiore in blue and
pastel





Lotus Leaf in Jade and Purpl

e
Onion Rings in Black and Pink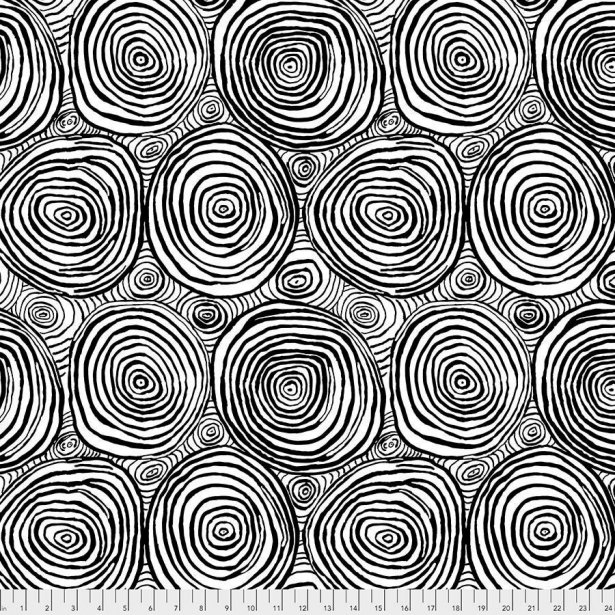 The suggested wide back fabrics for the "Gather No Moss" Sew-a-Longs are also available for preorder on the website.
It won't be long now!
Happy Sewing!
Shelley