Skip Navigation
Website Accessibility
November 2023 Snippets
All Ready? Well let's dive right in to the new arrivals at the Shop.
New Fabric
Tula Pink"Besties"
Just Adorable! Love these a few close ups...
We have yardage and fat quarter bundles.
Here are 4 free patterns on the Free Spirit Website for Besties
"Paws Out"
"Road Trip"
"Friendship Bracelet"
"Doggy Daydreams"
From Moda...
"Linen Cupboard" from Fig Tree Quilts
Very soft and pretty
Also from Fig Tree
Basics "Eyelet"
"Vintage Soul" by Cathe Holden for Moda Fabrics
Cheater print ombre
"Crochet Pot Holders"
Border Stripe
Crewel Yarn floral
We just restocked our "Dimples" Basics from Andover Fabrics.
From Hoffman Fabrics
Bali Pops
Aurora
Chai
Bayshore
From Dear Stella Fabrics
A few close ups of a few patterns.
New Books
New Cross Stitch Patterns
We carry supplies for Cross Stitch- Floss, Aida Cloth, hoops and more.
Bernina Specials for November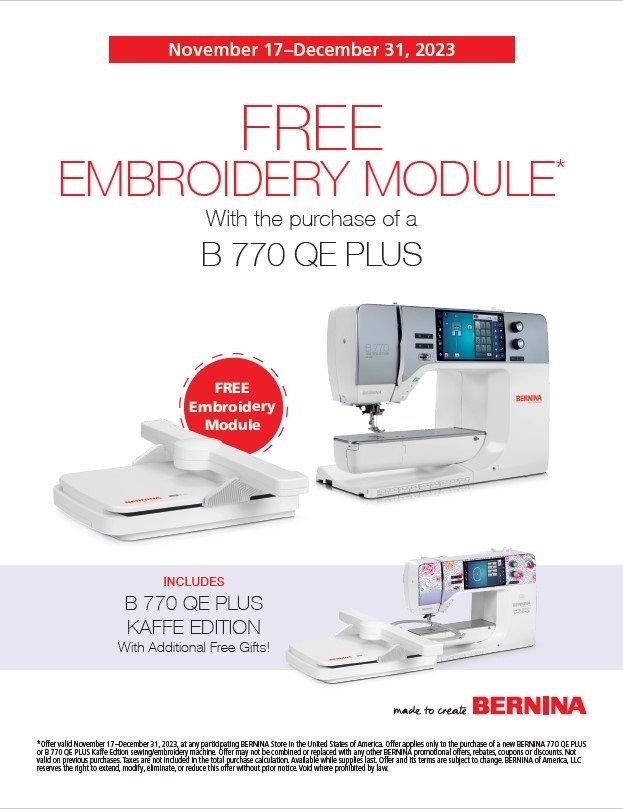 Just in time for Holiday giving!
Now is the time to work on those Holiday Projects. Shop our unique Winter and Chritmas fabrics
All panels continue to be 20% off.
Our Fabulous Fat Quarter Boxes have been shipped. The October box featured 12 fat quarters by Sandy Gervais, "Fall Into Fall"
Here is the finished quilt using the pattern enclosed by Villa Rosa.
Interested in signing up for the FFClub? Your first box will be delivered in November. Click Here for the details.
Have a wonderful Thanksgiving Holiday!
Happy Sewing!
Shelley